A Charming Oasis in the Heart of  the Big Apple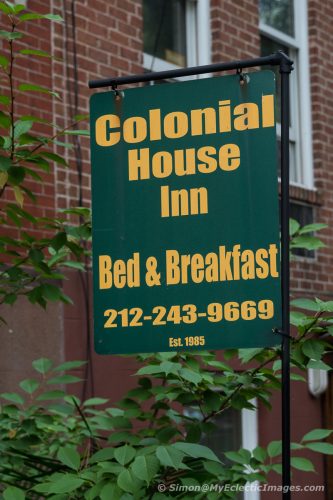 New York City is an unforgettable place to visit, but it can easily become an assault on the senses. Towering skyscrapers can make you feel closed in. Competing smells of deli food, Asian fair, and a host of other foodie fantasies compete with not-so-pleasant smells. Sounds of honking horns, emergency vehicles, screeching brakes and people hurling greetings and/or creative curses at each other can make you want to run and hide. So when you need a quiet place to recharge your battery for another day of discovering the treasures of the Big Apple, Colonial House Inn is the ideal place to recuperate from NYC overload.
This quaint boutique hotel is located on a quiet tree-lined street in Midtown NYC's eclectic Chelsea neighborhood. The delightful atmosphere of the High Line, the convenience of the subway and buses, shopping, restaurants, and many of the city's iconic attractions are within walking distance from the hotel.
Simon and I had the pleasure of spending several days exploring NYC with our CityPass. Colonial House Inn was a comfortable home away from home after hours of museums, memorials, and trying to find the best pastrami sandwich in town. The staff was friendly, the complimentary happy hour gave us the opportunity to mingle with fellow guests, and the luxuriousness of our oh-so-comfortable bed brought a soothing end to our hectic days.
The Hotel
The 1850 brownstone building that is Colonial House Inn became a hotel in 1985. The hotel's founder was Mel Cheren, an artist, entrepreneur, and financial backer of the Paradise Garage disco.
When the 1980s brought the AIDS crisis. he was one of the first to respond. He offered the building to the Gay Men's Health Crisis (GMHC) organization as a safe and welcoming haven for HIV infected gay men in which they could spend their final weeks. When the GMHC outgrew the space, Cheren converted it into a bed and breakfast hotel.
Comfort and simplicity are the hallmarks of this hotel. Many of Cheren's original paintings are on display throughout the building. You can see them in the 22 guest rooms and suites, the cozy lobby, where happy hour is held daily., and in the cheerful breakfast area.
Among the personal touches that give Colonial House Inn a homey atmosphere are complimentary coffee and tea available throughout the day. Breakfast is also complimentary, including juices, cereals, yogurt, and fresh bagels brought to the hotel every morning from the Bronx.
Colonial House Inn prides itself on its diverse clientele, however, it is not wheelchair accessible. The staff will make every effort to place guests with ambulatory mobility issues in rooms that require climbing fewer stairs. Be sure to ask about this when making your reservation.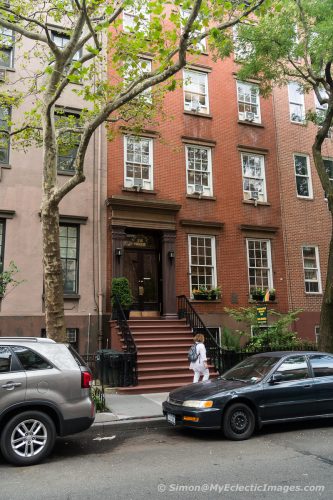 The Naked Truth
One of the most unique features of Colonial House Inn is the rooftop patio. Invitingly decorated with touches of greenery, umbrellas, and chaise lounges, make spending some quiet time there a true delight. What's unique about that? This rooftop is the only one in NYC where full nudity is permitted.
According to Colonial House Inn Manager, Tony Breen, "Clothing is optional." He made it clear, however, that this is the only area where you can take it all off if you choose. Don't even think about making happy hour happier by parading around the lobby in the buff.
Tony also told us of a book club that occasionally meets on the rooftop to discuss current reads sans apparel. The group is made up of mostly women, and their meeting schedule is somewhat weather dependent.
Also, in August, participants of a large annual nudist convention held in Upstate, New York come to the Colonial House Inn for a couple of days in NYC before the convention.
Our Room
Our personal oasis in NYC was a suite on the lower level of the hotel. The rooms had several oddities, including a spiral staircase that disappeared into the ceiling. Our suite had once been part of Mel Cheren's apartment, and the staircase had once led to his studio on the floor above. Instead of being eery, I thought the staircase gave the room a funky, but whimsical aura.
The sitting area was cozy, and the bedroom checked all of my three important boxes. The bed was comfy, the shower had good pressure, and the complimentary wifi worked as expected.
Since we prefer homeyness over luxury, Colonial House Inn made us feel right at home.
Room rates vary, and several packages are available. Check the Colonial House Inn website for current information.
The Owners
Andrew and Susan Bernstein have owned Colony House Inn since 2008. They were looking for a hotel to purchase when they learned that Mel Cheren had passed away. He had no children and the hotel was on the market as part of his estate. "The hotel had been operating at 100 percent occupancy for the last three years before we took it over," Andrew explained. "That made a big difference in our decision to buy."
The Bernsteins made a number of cosmetic changes to the interior of the building but held back when it came to major renovations and staff changes. Many employees had been working at the hotel for a long time. Tony told us that he began as a night desk clerk over 20 years ago, and, even though his current position is far more demanding, he still loves his job. "It had been working well," Andrew said, "so why make big changes?"
So what is the philosophy behind Colonial House Inn's success? "Customer service," was Andrew's answer. "We always try to say yes to customer requests within reason."
"I love our customers," Susan added," and I want them to love New York. I want them to share our passion for the city." 
These sentiments come through loud and clear in every aspect of Colonial House Inn. Perhaps that explains why the hotel sees a large amount of repeat business. It's in the middle of all the fabulous offerings of NYC, providing a soothing salve for your senses when you need it most.
Colonial House Inn
318 West 22nd Street
(Between 8th and 9th Avenues)
New York, New York 10011
Toll-free (U.S.and Canada): 800-689-3779
Local: 212-243-9669
Fax: 212-633-1612
Email: colonialhousehotel@gmail.com
http://www.colonialhouseinn.com
Disclosure: Our stay at Colonial House Inn was generously hosted by the owners. However, all opinions, as always, are entirely my own.