Me Before You ~ by JoJo Moyes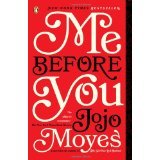 "Me Before You" is a novel about a young man who has everything until he finds himself paralyzed from the neck down. Enter his new female caregiver. Now, just forget everything you've ever read about battered boy meets gutsy girl – they don't hit it off, then they do, a major crisis ensues and the couple overcomes the odds and lives happily ever after. This, thankfully, is not that kind of story.
The book opens with Will Traynor, a highly successful, globe-trotting executive, kissing his beautiful, sexy girlfriend good-by before leaving for work. A few short minutes later, Will is involved in an accident that leaves him a  quadriplegic.
Louisa Clark, a recently unemployed, unambitious young woman lands a job as Will's caregiver. Although feeling ill-equipped for the task, she needs the money to help support her family. So she jumps into Will's world with both feet. But what Louisa lacks in experience, she makes up for in grit.
Predictably, Will is resentful, and Louisa refuses to take his abuse. They eventually warm to each other, though, and this is where the lessons in the realities of life begin for both of them.
The first lesson comes when Louisa plans what she assumes will be a perfect outing for Will. Unfortunately, she forgets to include him in her planning, and the day ends in disaster.
Other lessons follow. Will introduces Louisa to his life of music and culture, while she gets the hang of helping Will to derive some enjoyment from his life.
Then Louisa learns that Will's parents hired her in the desperate hope that she would make him change his mind about his decision to opt for an assisted suicide in Switzerland. Her efforts go into high gear to make life so worth living that he will abandon his plan.
"Me Before You" is well researched and beautifully written. The characters are real and engaging. Love is poignantly portrayed in a variety of its many guises through the  actions and voices of the diverse personalities in this hard-to-put-down book.
There is the love that blossoms between Will and Louisa, the love of siblings, the love of parents and the love of life. Circumstance is the only villain in the piece.
Will and Louisa give each other gifts from their individual worlds, and in doing so, show each other what is possible. What these two do with their gifts makes "Me Before You" a story worth reading and absorbing.
Simon and I read "Me Before You" on a drive up to Montreal to see my mother. Her Alzheimer's was progressing rapidly, and we just weren't in the mood for the thrillers and who-done-it's we usually choose to pass the miles. For us, this book met our "road read" needs for that trip, and left us with a perspective on life and love in general, and the issue of assisted suicide in particular.