Ever since Kevin, as a teenager, saw Mel Gibson's magnificent portrayal of William Wallace in Brave Heart, he has had a constant itch to visit Scotland. So the morning of February 26, 2013 found Kevin and me catching the early train out of the northern English city of York, headed to Edinburgh. It was the perfect win win situation. Kevin could fulfill his wish, and I could take the opportunity to visit the historic city of Edinburgh for the second time, while also snatching some precious one-on-one time with my eldest offspring.
Our family was in England for my father-in-law's memorial, a bitter-sweet occasion where we acknowledged what was lost, and celebrated the well-lived life of a man who's memory will always reside in the hearts of those who knew and loved him.
It was also an opportunity for siblings, nieces, nephews and an odd assortment of relatives to reconnect. This is how we ended up in York with Simon's sister and brother-in-law, Elizabeth and Mark.
Since Kevin and I were the only ones up for a day in Edinburgh, the rest of the crew took off for Elizabeth and Mark's cottage in the Lake District, where Kevin and I would meet them that evening.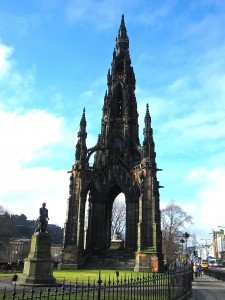 The two-hour train ride to Edinburgh took us past the industrial city of Newcastle and along a picturesque coastline. Our first stop after arriving in Edinburgh was the Sir Walter Scott monument, which was completed in 1846, and is the world's largest monument dedicated to a writer.
I had to sit this one out, since the over 200 steps to the top were so winding and narrow, the powers that be have a policy of not allowing even guide dogs to go to the top. So Otto and I sat on a bench in the sun, listening to live bagpipe tunes – some traditional and some that should never be played on bagpipes – while Kevin visited the monument for both of us. When he finally emerged, he confirmed that Otto and I would not have been able to safely negotiate those stairs.
History on a Rock
It was a beautiful, clear day, slightly on the chilly side, but perfect for all the walking we were going to do. So we headed off to Edinburgh Castle. Set atop a volcanic outcropping, and visible from just about any point in the city, this is the site of some of Scotland's most pivotal and most bloody historical events.
We were given audio tour equipment, which enabled us to guide ourselves through all the buildings with interesting and informative historical facts. I did miss the live tour guide Simon and I had during our last visit in 1977, where we could ask questions, but on the other hand, we were able to spend more time in areas that particularly interested us.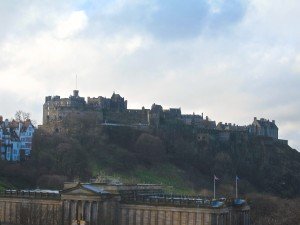 The hours spent exploring the castle and its grounds flew by. We saw the room where the ill-fated Mary Queen of Scots gave birth to James VI, who would later become James I of England, uniting the two nations, for better or worse.
St. Margaret's Chapel, which was built by King David I in honor of his mother somewhere around 1130, is the oldest surviving building in Edinburgh. Some aspects of the structure, such as the stained glass windows, were added later, and today, weddings and Christenings are still conducted in the peaceful atmosphere of the chapel.
One of the most breath-taking areas of the castle is the room where the "Honours of Scotland", the crown, scepter and Sword of State that comprise the oldest crown jewels in the British Isles, along with the Stone of Destiny, reside. The Stone, which has been used throughout the centuries to enthrone monarchs of both Scotland and England, was returned to Scotland in 1996.
Although the "Honours of Scotland" were protected by glass and most likely every other imaginable security device, replicas of the three pieces were available to touch. The patterns of gold on the crown that contain precious gems and pearls were intricate and beautifully crafted. There were oak leaves, a serpent, a large jewel-encrusted cross and other examples of meticulous workmanship to explore. My fingers had a field day, while my mind pictured them in use by those who became rulers of England and Scotland.
The "Honours of Scotland" were so highly valued that in 1651, they were cleverly smuggled out of Edinburgh Castle to keep them from being destroyed by Oliver Cromwell's soldiers. They spent time under the floorboards of a church, and then another castle. Once returned to Edinburgh Castle, the jewels were once again used as ceremonial trappings.
In 1607 the "Honours of Scotland" were relegated to their chest deep in the castle because the unified Parliament of England and Scotland deemed them no longer relevant. It was our writer friend, Walter Scot who discovered them and brought the jewels back into the light in 1818.
During World War II, the treasure was again hidden: This time to keep them out of Hitler's hands, should Germany's invading troops ever reach Scotland. Sealed envelopes revealing the location of the jewels were sent in secret to only three people: King George VI; the Secretary of State for Scotland; and the Governor-General of Canada.
Perhaps the most sobering stop on the Edinburgh tour was the National War Museum, which reveals 400 years of Scottish military history. Through personal accounts, letters from combat zones and exhibits of war paraphernalia from antique broadswords and armor to chemical warfare suits, the courage and determination of Scotland's fighting forces are clearly visible.
Ironically, the museum was built in the 1700's as a storehouse for munitions. It later became a military hospital, and opened as the National War Museum in 1933. The building also houses paintings and a research library.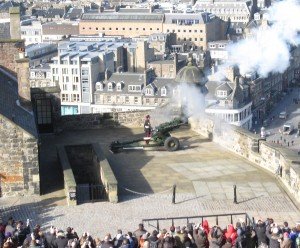 The all-too-long list of names of the fallen since world War I, along with the other facets of the museum help bring home the waste that war creates, even if the cause is just and noble. We can't bring back the dead, but we can honor them. We can't rewrite history so that wars never happened, but we can learn from the tragic results. In my opinion, for what it's worth, we've done a good job of the former, and a piss-poor job of the latter.
For his part, Otto did a great job on all the stairs and the uneven terrain at the castle, and didn't seem to mind all the stop-start walking. He didn't even flinch when the traditional one o'clock gun was fired. The gun was originally used so that people far and wide could accurately set the time. Despite digital watches and smart phones, the firing of the "Big Gun" is still a beloved Edinburgh tradition. Why 1:00 PM and not noon? Legend has it that the frugal Scots were able to save a tremendous amount of ammo by waiting one hour to announce the time.
I could spend hours describing the magnificent castle and its grounds, but there is so much more to tell about our day. Learn more about the history of Edinburgh Castle.
History in a Glass
Castle-exploration can work up a powerful thirst, so our next stop was "The Scotch Whisky Experience", where we began our tour in a Disney-style ride in a car that resembled a cut-out whiskey barrel. I know it sounds a bit cheesy, but the information about the whiskey-making process was presented in a most informative and entertaining manner.
Emerging from the ride, we were shown to a room with tables and comfortable sofas, where our guide gave us detailed explanations of the different regional whiskies, and a scratch and sniff card which enabled us to compare the differences in aromas of single malt whiskey from the four main whiskey producing regions of Scotland: Lowlands, Highlands, Speyside and Islay. If only they had this kind of scratch and sniff when I was a kid!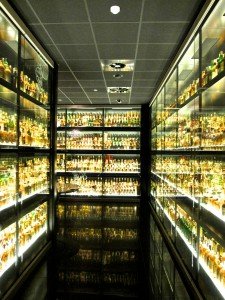 We were offered a generous whiskey sample of our choice, based on which aroma was most pleasing to each of us. I selected a sample from Islay, which makes one of my favorite single-malt scotches, Laphroaig. I don't remember the name of the scotch I drank, but it had the slightly smokey flavor of Laphroiag that is so warm and smooth going down.
We were then shown to a room which contained the Diageo Claive Vidiz Collection of approximately 3,500 individual bottles of scotch. It was a classic case of "whiskey, whiskey everywhere, but not a drop to drink", because none of these potable treasures is for sale. Of course, there was a shop on the premises that could fill the soul, and empty the pocket of the most enthusiastic Scotch lover.
The Scotch Whiskey Experience, 354 Castlehill, The Royal Mile, Edinburgh, EH1 2NE. Telephone: 0131 220 0441
Following the whiskey tour, Kevin and I settled in the bar for another wee dram, and then set off in search of a pub called "The Last Drop", which had come highly recommended, for a late lunch.
Like Simon and me, both of our sons are game to try just about anything once, so it didn't surprise me at all that Kevin chose a plate of haggis, neaps (turnips) and mash (mashed potatoes). Based on my first and last experience with the Scottish specialty, I opted for a curried chicken sandwich. Well, haggis has come a long way since 1977. Kevin really seemed to like his meal, I accepted a taste, and was pleasantly surprised. It was nicely seasoned, and minus the strong "animal innards" taste that I remembered.
History on the Fly
With thirst and hunger out of the way, we briefly explored the National Museum of Scotland, where we had to speed things up in order to take advantage of the wide variety of exhibits before closing time. Unfortunately, one needs quite a bit more time than we had to do the museum justice. This alone gave me a reason – as if I needed one – to put another trip to Edinburgh on the bucket list.
Our last stop was to Greyfriars Bobby, a small statue of a Skye terrier, who had sat faithfully at his master's grave for 14 years. When he died, Bobby was laid to rest next to the man he refused to abandon.
Shortly after 6:15 PM, we boarded the train to Penrith in the Lake District. Kevin and I were tired from our long day, but we agreed that it was definitely more than worth the effort. A major bonus for me was spending the day with my son, exploring, delving into history and enjoying each other's company. This certainly was one of those my "cup runneth over" moments that will stay with me forever!
The Official Guide to Edinburgh can provide you with more detailed information on what to see and do in this historic and vibrant city.