Pockets Full of Safety, Security, and Convenience
When Simon and I each bought a SCOTTeVEST five years ago, we thought it was a smart purchase. With the addition of two jackets and one dress over the years, we are absolutely certain it was.
Why We Chose SCOTTeVEST
It was 2016. We were in the midst of preparing for a two-month trip to Europe centered around our family in England and our niece's wedding. Our philosophy in regard to family celebrations, conferences, and volunteering as English facilitators has always been to see what else we can do while in the area. This trip would take us to Spain, Italy, France, and other parts of England before making our way to the wedding in mid-July. 
An advertisement for SCOTTeVEST caught our attention. It promised a comfortable vest with lots of interior pockets to keep valuable items safe while traveling. The more we researched, the more sense it made to take the plunge. After all, Spain and Italy are notorious for skilled pickpockets, especially in large cities, and we were always vigilant when visiting those countries.
The vests came in a variety of colors. Simon chose tan, and I – to no one's surprise – opted for bright red. My choice made sense from a safety standpoint, as well as my vanity. If we ever were separated in a crowd, I'd be a cinch to find.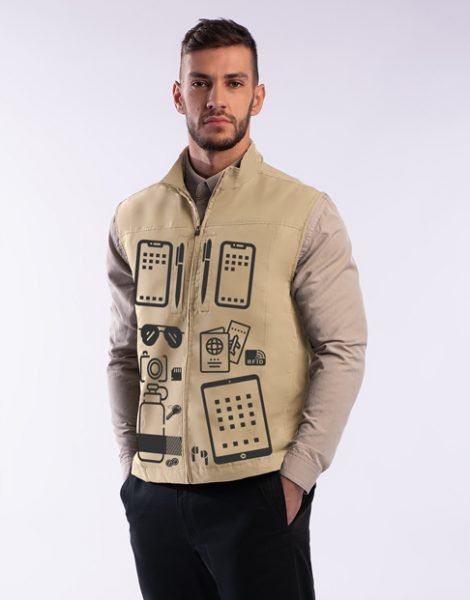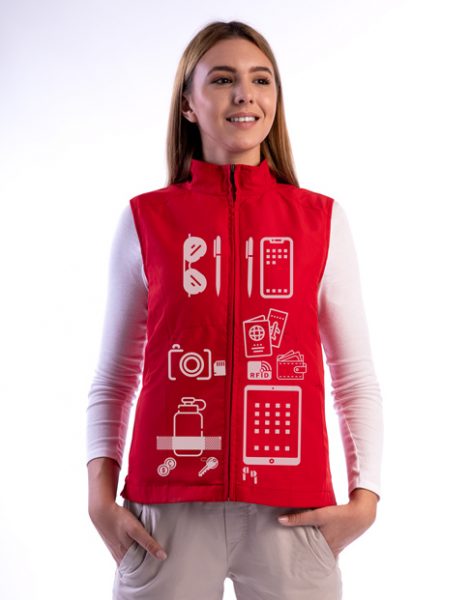 SCOTTeVEST Features
Each vest had a front zipper and while the women's version had three exterior pockets, the man's version had five. In common were the two roomy slash pockets in front and one deep back pocket large enough to hold an iPad. In addition the man's version had two vertical zipper pockets on the chest. All pockets had sturdy zippers with strong tabs and flaps. Inside the front right pocket were a small velcro pocket for coins or other small items, a removable bungee cord with an attached key ring and a band for securing a standard size water bottle.
The interior of the vest was where the fun really began. Simon's original SCOTTeVEST contained a total of 26 pockets, and mine had 17. The number of pockets seems to increase with every new version SCOTTeVEST puts out. Simon's current incarnation boast 27 pockets – he wore his first one out – and he uses every one of them. My vest, which I still have, came with 17 pockets, and I have no complaints.
The cell phone pocket, near the top left of the vest, close to the front zipper, had a see-through panel, so we could see our screens without having to remove our phones. Most of the large pockets had a small velcro pocket inside, similar to the exterior pockets. The top pocket on the right interior had a bungee cord with a cloth for cleaning glasses, upon which was printed a map of all the pockets and suggestions for their use, That's where our sunglasses resided.
The front right interior had a tube-shaped opening running next to, and parallel with, the zipper to hold a pen. There were also openings on either side of the neckband for threading headphones.
How I pack my SCOTTeVEST
I can't speak for Simon, as he has so many pockets, he forgets where to find his things. His frantic searches, unzipping and rezipping while becoming increasingly frustrated, is sometimes comical and sometimes sad. I, on the other hand, have designated pockets for all my items, and I return them to their rightful places when not in use.
In my left front pocket I keep hand sanitizer, lipstick, lip balm, hair pick, hand lotion, and stain eraser. In the right go my business cards, keys, bandaids in the small pocket, a small pouch with kibble for occasional rewards for Splendid, and sometimes a water bottle. The back pocket – the women's vest's isn't a large as the men's – holds a folded canvas shopping bag and any papers or brochures we pick up.
Interior pockets hold more valuable items. My and Splendid's passport – yes, in Europe, you can get a passport for your pooch – Non-drivers license as a second ID, credit cards, medical and insurance cards, and Splendid's rabies certificate all go into an RFID pouch, which I stow in one deep pocket. Other pockets hold my digital recorder, spare batteries, media credentials, eye drops, tissues, and an emergency meal for Splendid, in case we're out late. There's more, but these are the essentials for me.
Our SCOTTeVEST Experience
The first thing I noticed when I had finished packing my SCOTTeVEST was that, although the vest zipped up easily when it was empty, it was tighter when the pockets were loaded. I could still zip it up, but since I wore it open most of the time – remember, it was the middle of summer – it didn't matter.
The second thing I realized was that a loaded SCOTTeVEST can easily be removed and retrieved going through airport security. Also, since I didn't need a purse, my full-size backpack and mini backpack, containing in-flight necessities such as charging cables, crocheting projects, sanitizing wipes, wet wipes, a few toiletrees, and my laptop, easily met the carry-on requirements.
While traveling through Europe, our SCOTTeVESTS proved invaluable. Instead of clutching a purse strap for dear life, I had my right hand free while working my guide dog with my left. This came in especially handy one day while we were standing on a street corner in Naples, waiting for the light to change. I sensed something odd. Reaching back with my right hand, I felt a soft hand smoothly slip away from my pocket. She never even nudged the zipper. If she had somehow managed to succeed, her haul would have been my business cards and some kibble. My one regret was that I wasn't fast enough to break a couple of fingers. No, I wouldn't have taken any satisfaction from feeling and hearing the crack of bones. But it would have been nice to have taken one person who preyed on tourists off the street, at least for a while.
The key ring was a true blessing. I could open accommodation doors without the key leaving my pocket, thus eliminating future frantic searches. Unfortunately, this was not true of the pen holder. Even though the clip was tight on the outside, the pen would invariably fall out whenever I took the vest off. With all those pockets, however, I didn't consider this a problem.
Why We Recommend SCOTTeVEST
Since our first foray into the world of SCOTTeVEST products, we have supplemented our travel wardrobes with water-resistant windbreakers for each of us, and a dress for me. The jackets are longer than the vests, keep the wind at bay, have 19 pockets, and are equipped with a hood that neatly tucks away when not in use. Newer versions of the jackets and vests also come with an RFID pocket.
My dress is flattering, easy to pack, and comes with six cleverly camouflaged pockets. On the street, at an event, or on a cruise ship, I can dispense with having to carry a purse. I chose black because it can be dressed up or down with accessories.
The line of SCOTTeVEST products continues to expand while maintaining the high quality we've come to expect from this company. You can find cleverly designed clothing for all kinds of weather conditions. I will also give them an "A" for customer service.
Prices vary, and coupons and specials are often available. If you're looking for a dirt-cheap fix, you're out of luck, but even the regular prices for SCOTTeVEST are nowhere near outrageous. Considering the safety and peace of mind SCOTTeVEST products bring, you simply can't go wrong.
Disclaimer: This article contains affiliate links. If you make a purchase, we will receive a small commission.