Between a Rock and a Harness.
Unable to get my right foot up high enough to reach the next crevice, I felt my left shoulder seize up from the effort of trying to pull myself up the rock face just a little higher. With a combination of resignation and regret, I let go. Hanging from a rope, safe in the cocoon of my climbing harness, I leaned my head back, and murmured, "WOW!" to a cloudless Panamanian sky.
I could have stayed there all day, communing with the warm sun and soft breeze, but my purpose for being at a rock face seven minutes outside of the town of Boquete was not to hang suspended in mid-air, catching rays. So, I reluctantly let Cesar, my instructor, lower me down to terra firma.
My first attempt at rock climbing was a total flop, and a definite WOW experience, and, like Deanna Bogart, Cesar Augusto Melendez Castillo is a definite WOW person. That meant that I was in store for a doubly terrific day.
Born in Boquete 32 years ago, Cesar started young, climbing small rock formations as a hobby with his father. Today, he is Panama's first professional rock climber.
Cesar caught the climbing bug when, as a computer engineer in Panama City, he was sent back to his home town to design a website for a real estate company. While in Boquete, he met Gary Henning, a professional rock climber from Canada. Gary introduced Cesar to the techniques and equipment he used, and became his mentor. Since then, Cesar has climbed in international competitions, has three international sponsors, has developed numerous climbing routes, has climbed in 19 countries and is dedicated to developing the sport in Panama for future generations.
"This sport allows you to find yourself as you climb," Cesar explained. "You are not competing against anybody else. You try to push your own limits to get to the top of the mountain."
Cesar has his own philosophy about climbing. It's a philosophy to which, as a travel writer and enthusiast, I can fully relate. "It's not all about the mountain. It's also about the journey," he said. "It's like life itself, in a way, because you have to face different challenges, and overcome these challenges of this journey in order to learn some things as you go. And once you get to the summit, you realize you've changed. When you get back to the ground, you're someone different."
For Cesar, rock climbing is an intense experience. "You don't have time to think about anything else as you climb, he said. "you need concentration, because you're living in the moment."
It was Simon who suggested that I might like to interview Cesar, after hearing him speak at a Boquete Rotary Club meeting. Simon usually makes good suggestions, so we arranged to meet at his office, and go out to the rock face.
My plan was to do the interview, and then try scaling the rock wall to see what it was like. Cesar, being the adventuresome fellow that he is, was up for the challenge of teaching a 63-year-old, un-athletic, overweight, short armed, short legged blind woman how to climb a vertical hunk of solid rock.
Once outfitted with climbing shoes, a helmet,and harness, I was almost ready to go. Cesar attached a pouch containing magnesium carbonate to the back of my harness. This was to put on my hands periodically to keep them dry. Then he expertly attached the rope to the front of the harness.
Cesar explained that the rope was attached to a bolt anchor approximately 33 feet  high, at the top of the route. The rope had a slight amount of elasticity, so that when a climber falls a long way, the tautness of the rope would not cause injury. Instead, there is a bouncing motion, like a modified bungy jump.
Thus outfitted, I began to climb with specific directions from Cesar. "Find the next foothold up and a little to your right," he would instruct. "Find the next handhold up and to your left."
I was doing pretty well, until I reached high and to the left, barely grabbing a handhold. My chronically troublesome left shoulder began to protest. In order to get my right foot to the next foothold, I had to try to hoist myself higher with my left hand.
At this point, I found myself unable to move. My shoulder betrayed me, my leg was too short to reach the next foothold, and there seemed to be nothing on my body I could utilize to help me out of this predicament. Finally, I had to let go.
After Cesar lowered me to the ground, I learned that I hadn't even made it up six feet. My shoulder was easing up, but my pride was in ICU.
Cesar then folded a T-shirt into a blindfold, and went up the same route I had just attempted. To play it safe, he attached his rope to the metal bolt at the top of the route; something he doesn't normally do on a wall he knows as well as this one.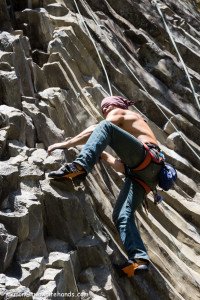 Well, it took Cesar all of a minute to reach the top. By then, my pride was on life support!
What was it like? Cesar said that climbing without using his sense of sight gave him a new perspective "It makes you feel more with your hands and feet for better footholds and handholds," he reported. "I climbed this route thousands of times, so my body remembers. There are certain sequences that I already know. Although I'm not watching, I already know that there are going to be handholds there."
Cesar said he would next try a route he doesn't know so well with the blindfold "It was really difficult," he confessed. "I had a hard time. It was a different feeling. It makes you think more about the position of the body. You feel the rock instead of just touching it. Fewer distractions, and more focused".
Then Cesar offered me another try. This time, the climb seemed a little easier, because I had some idea of where to place my hands and feet. Unfortunately, that long reach with my left hand did me in. I lost my grip and swung. In trying to grab the handhold again, I grazed my hand. It was barely noticeable, but I'm very protective of my hands. I was done for the day, and my pride was DOA.
"Sometimes it takes years to develop skills and strength to reach the summit," Cesar said reassuringly. "It can be very frustrating. You get a real sense of accomplishment when you reach the top. Then you can move on to the next goal."
Following this soothing combination of empathy and encouragement, I told Cesar that when I come back to Boquete, I would like to keep at it; getting farther each time, until I get to the top.
Cesar liked the idea, and thought it would be very interesting for both of us "It would open a new dimension for me," he said.
I like the idea, too, and when I finally make it to the top, it will be a WOW on steroids.
Cesar's website is certainly worth a visit, if you would like to learn more about rock climbing in Panama or anywhere else. You will also find out more about this determined, deep-thinking and generous young man.